Since 2003, hundreds of Dentaltown members, also known as Townies, have come together to select dental products worthy enough to be recognized with the prestigious Townie Choice Awards.
Gendex has been a Townie favorite from the very beginning, and the recipient of a Townie Choice Award every single year for 10 years in a row. This year, with 143 votes, nearly 3 times higher than the second classified, Townies have continued in their tradition of assigning the category award for best intraoral x-ray machine to Gendex.
No other dental imaging manufacturer has had the honor of being selected for 10 years in a row! This outstanding series of awards is a testament to the Gendex legacy and its history of dental innovations, which started back in 1893. The company commitment to excellence has resulted in iconic and solid intraoral x-ray products like the popular CDX and GX-770. The current expert DC intraoral x-ray machine continues the Gendex traditions of delivering dental practitioners with proven dependability, clear diagnostic images, and efficient workflow.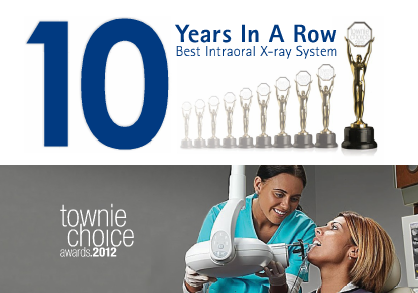 Today, Gendex Dental Systems offers a comprehensive portfolio of dental digital radiography solutions that spans from the award-winning GXS-700 digital x-ray sensors, to extraoral digital panorex machines able to deliver consistent imaging results with clear and easy to acquire panoramic and cephalometric views, as well as dental CBCT scans.