With the advent of any new technology, it's important for dental professionals to consider not only cost and risks, but also the benefits of switching. In the case of 3D dental imaging, the advantages are clear, granting practitioners and patients alike a better clinical experience.
A dental 3D scan allows clinicians to view dental anatomy from different angles. A 3D scan can help gain a better view of bone structures, such as adjacent root positions, in order to locate canals and root fractures, as well as provide the ability to more accurately measure anatomical structures. These scans also support a wide range of diagnosis and treatment planning, making them extremely flexible. Further, they increase the possibility of treatment success, granting practitioners greater predictability and confidence in preparing for extractions, performing root evaluations, and placing implants.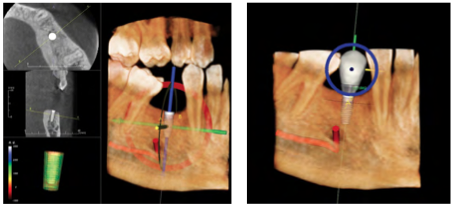 3D dental imaging also delivers the power of repeatability, providing fast and accurate imaging that's consistent—and thus, reliable. Using a 3D dental scanner equips dental professionals with a comprehensive view, letting them see specific conditions in the region of interest to determine whether a treatment is necessary. Because details show up so clearly, patients can be more confident in a dentist's decision. In addition, the use of dental imaging technology often creates a more comfortable and engaging dental visit for the patient.
The Gendex GXDP-700 Series features the pinnacle of 3D dental imaging technology, allowing dentists to plan for more predictable treatment outcomes by taking advantage of powerful 3D software analysis and simulation tools. Plus, dental practitioners can control the exposure and the size of scanned areas using the system's flexible field-of-view (FOV) to meet individual patient and clinical needs. As a practice grows to offer additional imaging capabilities, the GXDP-700 imaging solution can be upgraded within your own timeline and budget.
---
X-ray imaging, including dental 3D (CBCT), provides a fast, non-invasive way of answering a number of clinical questions. Dental CBCT images provide three-dimensional (3D) information, rather than the two-dimensional (2D) information provided by a conventional X-ray image. This may help with the diagnosis, treatment planning and evaluation of certain conditions. Dental CBCT should be performed only when necessary to provide clinical information that cannot be provided using other imaging modalities. Concerns about radiation exposure are greater for younger patients because they are more sensitive to radiation. For more information about the use, benefits, and risks of CBCT, visit blog.gendex.com/risk-and-benefits-of-CBCT