SRT Scatter Reduction Technology Wins Pride Institute's Best of Class Technology Award
Hatfield, PA (August 29, 2013) Gendex, developers of the GXDP-700™ cone beam 3D system, has been honored to receive the Pride Institute's Best of Class Technology Award for 2013 for its SRT™ Scatter Reduction Technology. Unique in its approach and scope, the Pride Institute's "Best of Class" Technology Award — now in its fifth year — recognizes products that demonstrate excellence in their category.
SRT image optimization technology delivers 3D scans with higher clarity and detail around scatter-generating material. By using SRT Technology, clinicians are able to reduce artifacts caused by metal or radio-opaque objects such as restorations, endodontic filling materials, and implant posts. When a scan is prescribed near a known area of scatter generating material, the user only needs to select the SRT button from the GXDP-700 touchscreen interface to utilize this new optimization technology. From endodontic to restorative and the post-surgical assessment of implant sites, SRT offers a significant improvement to image quality.
"We are very proud of this distinction from Pride Institute," says Filippo Impieri, Director of Marketing, "And we are thrilled that the result of our dedication to research and development has been recognized by this distinguished panel." He adds, "Our proprietary SRT technology further enhances the diagnostic capabilities of the modular GXDP-700 Series."
Dr. Lou Shuman, DMD, CAGS, President of Pride Institute and founder of the "Best of Class" Technology Award noted, "Over the past two years, the panel has been particularly interested to see what companies would take the initiative in responding to the need to reduce radiation in their next generation products. The SRT Technology by Gendex, allows clinicians to reduce scatter radiation and artifacts, thereby providing an impactful solution to a longstanding issue. Even more critical, the system's focused field of view gives the practitioner the control to expose a smaller area to radiation dose, therefore reducing radiation exposure. Gendex is commended for committing the time and dollars to researching and developing this new technology. They received high praise from the panel for taking a leadership role
in responding to the needs of the dental community and most importantly the patients they treat."
The panel is committed to an unbiased and rigorous selection method. Throughout the course of the year, members of the panel review new and existing technologies in preparation for the vote. Panelists who receive compensation from dental companies are prevented from voting in that company's category. This provides the dental professional with a product perspective untainted by manufacturer intervention.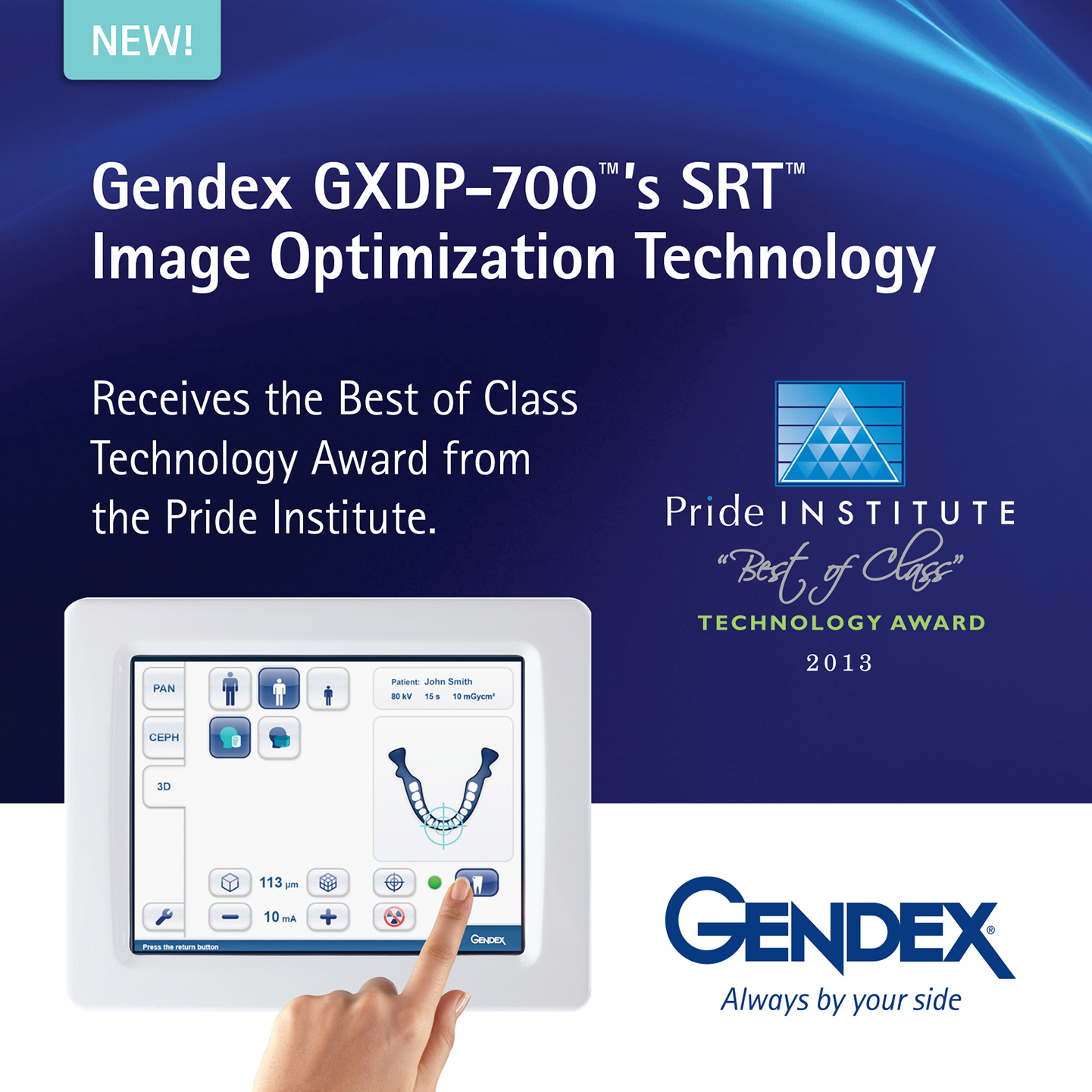 Gendex's design philosophy focuses on delivering award-winning innovations with clinicians and patients in mind, and the addition of the SRT to the GXDP-700 platform aligns with that goal. The company's strong history in continuing innovation, along with a deep dedication to deliver products that exceed the needs of dental professionals, have earned Gendex recognition as a global leader.
Learn more about the full line of Gendex products at www.gendex.com.